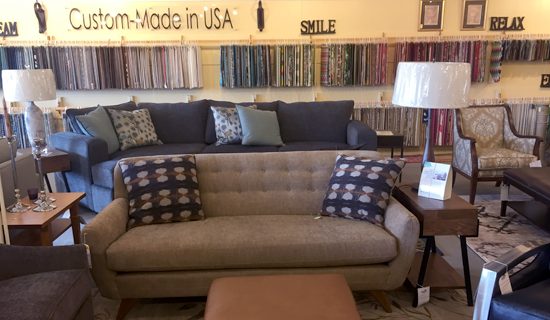 American-Made Furniture
At Rainbow Furniture we pride ourselves in carrying only American-Made furniture in our Fort Wayne Furniture store. Selling furniture made in the USA not only helps our local economy, it also means a higher quality furniture for our customers.
American-made furniture is built with hardwood frames and hand-finished craftsmanship by some of the best furniture manufacturers in the USA like Norwalk, MAVIN, and Yutzy Woodworking in Ohio, Saloom in Massachusettes, and Temple Furniture out of North Carolina.
Quality, furniture made in the USA looks, wears, and lasts a lot longer. That means you won't need to replace your sofa in a few years when the frame breaks, or buy new dining room chairs because yours simply broke when someone sat in it. After all, hand-crafted, American-made furniture stands up to normal, everyday use. Import furniture isn't exactly the bargain you think it is when you have to replace it in a few years, and often you have to pay extra just to get it delivered to your home.
Besides quality, why buy American? Working with American manufacturers gives our customers the additional bonuses of:
thousands of customizable options
quick delivery
outstanding and reliable product warranties
the ability to communicate directly with the manufacturer should any problems arise
Virtually everything you'll see in our 6 furniture showrooms is American-made — sofas, loveseats, recliners, dining room tables and buffets, home office furniture, and bedroom furniture. Visit our store today to see for yourself how affordable American-made furniture can be.